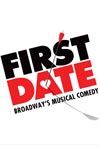 First Date
À Longacre Theatre
Prix de € 99.20
FIRST DATE is Broadway's new musical comedy about the most dangerous human endeavor in existence, the dreaded blind date. Book tickets for FIRST DATE in New York here!

When tightly wound Aaron is set up with cool girl Casey, a quick drink turns into a hilarious dinner served with sides of Google background checks, fake emergency phone calls, a slew of bad boy and uptown girl exes, and some seriously saucy chemistry. Set in a jaded city full of missed connections, their unpredictable evening unfolds in real time. Can this mismatched pair turn what could be a dining disaster into something special before the check arrives, or end up at another table for one?
Bien
3.0
1 les avis de nos clients
Le spectacle aurait été mieux avec les bons acteurs!
Le show en lui même est vraiment super, très énergique et marrant, j'ai beaucoup apprécié.
Le problème c'est que je voulais absolument voir Zachary Levi et qu'il n'était pas là. C'est seulement lorsque je me suis installée que j'ai vu un mot sur une feuille volante dans le programme de la pièce pour nous informer que le rôle d'Adam était joué par un autre acteur!
Bien
3.0
1 les avis de nos clients
Informations sur le lieu
Information du spectacle
Réservation de
2013-08-04
Durée:
90 minutes, no intermission
Itinéraire

Take the subway to 49th St. station

Regardez la carte