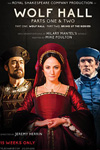 Wolf Hall Part Two: Bring Up the Bodies
À Winter Garden Theatre
Prix de € 198.40
Part 2: Bring Up the Bodies Cromwell has succeeded in getting King Henry VIII his divorce. Anne Boleyn is now Henry's queen, and Thomas Cromwell has been made the King's chief adviser…and chief fixer.

Despite years of marriage, Anne has failed to deliver Henry a male heir, and when her willful behavior alienates the nobility, the King turns his eyes towards a new conquest: Jane Seymour. Thomas Cromwell believes his only hope to satisfy the hot-blooded Henry is to align with his greatest enemies in the court. But whose head will pay for his ruthless ambition?
Informations sur le lieu
Information du spectacle
Réservation de
2015-04-09
Durée:
2 Hours, 45 Minutes
Itinéraire

Prenez le métro jusqu'à la station: 50th St.

Regardez la carte