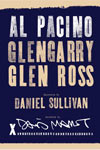 Glengarry Glen Ross
À Gerald Schoenfeld Theatre
Prix de € 173.00
Glengarry Glen Ross on Broadway in New York starring Al Pacino in the leading role. Tickets for Glengarry Glen Ross on Broadway in New York with Al Pacino here!

AL PACINO will return to Broadway to star in DAVID MAMET'S acclaimed Pulitzer Prize-winning drama GLENGARRY GLEN ROSS .

AL PACINO, who was nominated for an Oscar for potraying the role of Ricky Roma in the film version, will now take on the role of Shelly Levene.

The stakes are high at a fly by night Chicago real estate office: 1st prize-a new Cadillac, 2nd prize-a set of steak knives, 3rd prize-you're fired!!! GLENGARRY slices to the core of the American dream and exposes the depths people will go to stay on top of the game. Mamet himself worked in a real estate office in Chicago in 1969 setting up appointments for salesmen, and the play is influenced bu the cutthroat politics he encountered.

Richard "Ricky" Roma will be performed by Emmy Award winner and two-time Tony nominee BOBBY CANNAVALE. Tony Award-winning director, DANIEL SULLIVAN (The Columnist, The Merchant of Venice, Time Stands Still, Proof) will direct.
Informations sur le lieu
Information du spectacle
Réservation de
2012-12-08
Durée:
1 hour, 45 minutes
Itinéraire

Take the subway to 42nd St. station

Regardez la carte