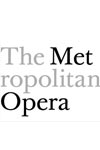 Die Frau ohne Schatten
À Metropolitan Opera
Prix de € 128.50
Die Frau ohne Schatten at The Metropolitan Opera House in New York. Tickets for Die Frau ohne Schatten by Richard Strauss at The Met in New York here!

A legendary Met production directed by the late Herbert Wernicke returns for the first time in ten years. The fantastical genius of the Strauss score and the Hofmannsthal libretto will be interpreted by conductor Vladimir Jurowski and a thrilling cast. Anne Schwanewilms and Torsten Kerl are the otherworldly Empress and Emperor, and Johan Reuter is Barak. Christine Goerke, the rising dramatic soprano star, returns to the Met as the Dyer's Wife, whose shadow the Empress must win to free herself from a fatal decree.

Dates: 7. Nov. 2013, 12. Nov. 2013, 16. Nov. 2013, 20. Nov. 2013, 23. Nov. 2013, 26. Nov. 2013!

Die Frau ohne Schatten is Sung in German with Met Titles in English, German, and Spanish!
Informations sur le lieu
Information du spectacle
Itinéraire

Take the subway to 66th St. Lincoln Center station

Regardez la carte